Raven Competition 2017 › Results › Day 4 › 29.04.2017
Training Day 1 Day 2 Day 3 Day 4 Day 5 Day 6 Day 7 Day 8 Overall Results
Racing Task | Final Results | Maximum Points: 411 | Day Factor = 1.0000
| | | | | | | | | | | |
| --- | --- | --- | --- | --- | --- | --- | --- | --- | --- | --- |
| # | | PILOT | CN | RN | PLANE | DISTANCE | TIME | SPEED | PEN | POINTS |
| 1 | | Jan Michalek | Y77 | JERRY | Discus2 | 248.56 km | 01:31:38 | 162.7 km/h | 0 | 411 |
| 2 | | Quinten Hermans | REA | OO-QAS | LS8 | 248.56 km | 01:31:40 | 162.7 km/h | 2 | 409 |
| 3 | | Golden Eagle | GE7 | EAGLE | Discus2 | 248.56 km | 01:31:52 | 162.3 km/h | 0 | 409 |
| 4 | | Martin Dvorak | CCC | OK-9252 | LS8 | 248.56 km | 01:32:06 | 161.9 km/h | 0 | 407 |
| 5 | | Pawel Lis | PLP | SP-3679 | Discus2 | 248.56 km | 01:32:34 | 161.1 km/h | 0 | 403 |
| 6 | | Jon Holland | 123 | G-RUSH | LS8 | 248.56 km | 01:33:16 | 159.9 km/h | 0 | 398 |
| 7 | | Alex Holswilder | V3 | G-NOOB | Discus2 | 248.56 km | 01:33:58 | 158.7 km/h | 0 | 392 |
| 8 | | Jiri Adam | ADX | OK-0024 | LS8 | 248.56 km | 01:34:08 | 158.4 km/h | 0 | 391 |
| 9 | | Zbyszek Tkocz | ZBY | ZBYCH | Discus2 | 248.56 km | 01:34:18 | 158.1 km/h | 0 | 390 |
| 10 | | Radek Mica | RUM | OK-5417 | LS8 | 248.56 km | 01:34:25 | 157.9 km/h | 0 | 389 |
| 11 | | Ovidiu Feder | ERA | FEDERER | LS8 | 248.56 km | 01:35:02 | 156.9 km/h | 0 | 384 |
| 12 | | Juliett Oscar | JO | FLOAT | LS8 | 248.56 km | 01:35:49 | 155.6 km/h | 0 | 378 |
| 13 | | Lubos Faitz | LFM | OK-4812 | Discus2 | 248.56 km | 01:36:08 | 155.1 km/h | 0 | 376 |
| 14 | | Ruslan Shatov | NEM | NEMM | LS8 | 248.56 km | 01:36:20 | 154.8 km/h | 0 | 374 |
| 15 | | T Broty | TB | OK-0516 | Discus2 | 248.56 km | 01:36:55 | 153.9 km/h | 0 | 370 |
| 16 | | Tomasz Zwolinski | TZ2 | SP-0028 | Discus2 | 248.56 km | 01:37:11 | 153.4 km/h | 0 | 368 |
| 17 | | Aleksey Chernov | AV7 | AIRMAN | Discus2 | 248.56 km | 01:37:18 | 153.2 km/h | 0 | 367 |
| 18 | | Mihaly Knausz | KMI | HA-5005 | Discus2 | 248.56 km | 01:39:02 | 150.6 km/h | 0 | 355 |
| 19 | | Ori Ental | ORI | DAFFY | Discus2 | 248.56 km | 01:39:26 | 150 km/h | 0 | 352 |
| 20 | | Jiri Holub | JHO | OK-4408 | Discus2 | 248.56 km | 01:39:39 | 149.6 km/h | 0 | 350 |
| 21 | | Marty Ray | SE | N9SE | LS8 | 248.56 km | 01:39:44 | 149.5 km/h | 0 | 350 |
| 22 | | Hans Nyc | JN | OK-6200 | Discus2 | 248.56 km | 01:40:32 | 148.3 km/h | 0 | 344 |
| 23 | | Milos Koch | MK | OK-1823 | ASW28 | 248.56 km | 01:40:55 | 147.8 km/h | 0 | 341 |
| 24 | | Martin Baran | MOV | OK-7103 | LS8 | 248.56 km | 01:41:34 | 146.8 km/h | 0 | 337 |
| 25 | | Paca84 Laurent | LM1 | PACA84 | Discus2 | 248.56 km | 01:41:53 | 146.4 km/h | 0 | 335 |
| 26 | | Jan Podolan | A22 | ANDEL | LS8 | 248.56 km | 01:42:04 | 146.1 km/h | 0 | 334 |
| 27 | | Martin Semrad | MSE | OK-DAR | Discus2 | 248.56 km | 01:43:19 | 144.3 km/h | 0 | 325 |
| 28 | | Jan Valasek | JAV | OK-MOLE | ASW28 | 248.56 km | 01:43:48 | 143.7 km/h | 0 | 322 |
| 29 | | Jan Svetlik | JS6 | ARADAC | ASW28 | 248.56 km | 01:48:15 | 137.8 km/h | 0 | 295 |
| 30 | | Norbert Karolyi | NK1 | OM-1966 | ASW28 | 248.56 km | 01:51:18 | 134 km/h | 1 | 276 |
| 31 | | Rudolf Kalousek | R1K | OK-7777 | ASW28 | 248.56 km | 01:52:16 | 132.8 km/h | 0 | 272 |
| 32 | | Wlodzimierz Kowalski | DB9 | SP-2964 | Discus2 | 248.56 km | 01:57:20 | 127.1 km/h | 2 | 243 |
| 33 | | Pavel Snajdr | ST | LT5 | LS8 | 248.56 km | 01:59:19 | 125 km/h | 0 | 235 |
| 34 | | Zdena Zazova | BZZ | OK-3710 | LS8 | 248.56 km | 02:10:20 | 114.4 km/h | 11 | 175 |
| 35 | | Simon ANDRE | S86 | F-CGKM | ASW28 | 248.6 km | 01:40:07 | 149 km/h | 0 | 0 |
| 36 | | Marcin Martyna | MRM | SP-2772 | Discus2 | 114.1 km | | | 0 | 0 |
| 37 | | Marcus Neumann | MN1 | D-3702 | Discus2 | 55.9 km | | | 0 | 0 |
| 38 | | Dmitry Andreyev | D2A | - | ASW28 | 29.09 km | | | 0 | 0 |

Download IGC files (all pilots in one ZIP file) | Detailed results (mCR, mIAS, Detour%...)
Briefing › Day 4 › 29.04.2017 › 20:00 CEST › Saturday
This task is dedicated to our friend - Michal Brabec. He left us unexpectedly this week on Thursday. Michal has died at age 31 after heart attack. He was flying with us for a last time previous Saturday in this contest. Our condolences to his family. Rest in peace, Michal...

---
Tento task venujeme nášmu zosnulému priateľovi Michalovi Brabcovi. Michal nás nečakane opustil tento štvrtok vo veľmi mladom veku 31 rokov, zradilo ho srdiečko. Naposledy si s nami Michal virtuálne zalietal minulú sobotu presne na tejto súťaži. Úprimnú sústrasť rodine. Odpočívaj v pokoji, Michal...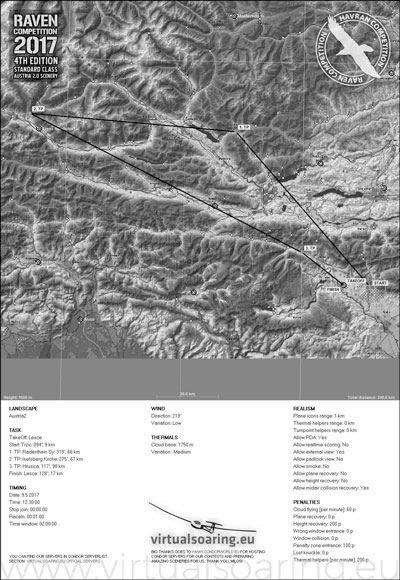 Server:Raven Competition 2017
Password:
Date:29.04.2017
Time:20:00 CEST (18:00 UTC)
Join time:30 min.
---
Landscape:Austria2 [2.0]
Plane class:Standard Class
Task type:Racing Task
Race-in time:1 min.
Time window:120 min.
Start time:12:30:00
Condor date:09.05.2017
Start altitude:max. 1500 m QNH
Wind direction:219 °
---
TakeOff:Lesce
Start:Trzic
1. TP:Radenthein Sy
2. TP:Iselsberg Kirche
3. TP:Hrusica
Finish:Lesce
Distance:249 km
---
Cloudflying not allowed! Circeling in the direction of climb is determined by the first glider in thermal. If you have doubts about the circeling direction, ask in the chat. Please FLY SAFE, good luck to all pilots.
---

Download Flightplan (FPL file)
---