Raven Competition 2017 › Results › Day 1 › 08.04.2017
Training Day 1 Day 2 Day 3 Day 4 Day 5 Day 6 Day 7 Day 8 Overall Results
Racing Task | Final Results | Maximum Points: 578 | Day Factor = 1.0000
| | | | | | | | | | | |
| --- | --- | --- | --- | --- | --- | --- | --- | --- | --- | --- |
| # | | PILOT | CN | RN | PLANE | DISTANCE | TIME | SPEED | PEN | POINTS |
| 1 | | Golden Eagle | GE7 | EAGLE | Discus2 | 266.03 km | 01:56:42 | 136.8 km/h | 0 | 578 |
| 2 | | Jon Holland | 123 | G-RUSH | LS8 | 266.03 km | 01:57:04 | 136.3 km/h | 0 | 575 |
| 3 | | T Broty | TB | OK-0516 | Discus2 | 266.03 km | 01:59:08 | 134 km/h | 0 | 561 |
| 4 | | Marcus Neumann | MN1 | D-3702 | Discus2 | 266.03 km | 01:59:49 | 133.2 km/h | 0 | 557 |
| 5 | | Jan Michalek | Y77 | JERRY | Discus2 | 266.03 km | 02:00:01 | 133 km/h | 0 | 556 |
| 6 | | Helmut Kuenne | F9 | D-2318 | Discus2 | 266.03 km | 02:01:54 | 130.9 km/h | 0 | 543 |
| 7 | | Aleksey Chernov | AV7 | AIRMAN | Discus2 | 266.03 km | 02:03:19 | 129.4 km/h | 0 | 535 |
| 8 | | Ori Ental | ORI | DAFFY | Discus2 | 266.03 km | 02:04:02 | 128.7 km/h | 0 | 530 |
| 9 | | Tomasz Zwolinski | TZ2 | SP-0028 | Discus2 | 266.03 km | 02:05:11 | 127.5 km/h | 0 | 523 |
| 10 | | Radek Mica | RUM | OK-5417 | LS8 | 266.03 km | 02:05:37 | 127.1 km/h | 0 | 521 |
| 11 | | Hans Nyc | JN | OK-6200 | Discus2 | 266.03 km | 02:07:24 | 125.3 km/h | 1 | 509 |
| 12 | | Wlodzimierz Kowalski | DB9 | SP-2964 | Discus2 | 266.03 km | 02:08:35 | 124.1 km/h | 2 | 501 |
| 13 | | Jan Valasek | JAV | OK-MOLE | ASW28 | 266.03 km | 02:10:24 | 122.4 km/h | 0 | 493 |
| 14 | | Jiri Adam | ADX | OK-0024 | LS8 | 266.03 km | 02:12:05 | 120.8 km/h | 0 | 484 |
| 15 | | Martin Baran | MOV | OK-7103 | LS8 | 266.03 km | 02:16:43 | 116.8 km/h | 0 | 460 |
| 16 | | Martin Semrad | MSE | OK-DAR | Discus2 | 266.03 km | 02:17:01 | 116.5 km/h | 0 | 458 |
| 17 | | Jan Podolan | A22 | ANDEL | LS8 | 266.03 km | 02:18:28 | 115.3 km/h | 0 | 451 |
| 18 | | Jan Svetlik | JS6 | ARADAC | ASW28 | 266.03 km | 02:18:32 | 115.2 km/h | 0 | 450 |
| 19 | | Piotr Raczynski | PIT | SP-2901 | Discus2 | 266.03 km | 02:18:57 | 114.9 km/h | 0 | 448 |
| 20 | | Josef Spirik | S50 | SPIRA | Discus2 | 266.03 km | 02:19:12 | 114.7 km/h | 0 | 447 |
| 21 | | Norbert Karolyi | NK1 | OM-1966 | ASW28 | 266.03 km | 02:21:59 | 112.4 km/h | 0 | 434 |
| 22 | | Ruslan Shatov | NEM | NEMM | LS8 | 266.03 km | 02:23:12 | 111.5 km/h | 0 | 428 |
| 23 | | Zdena Zazova | BZZ | OK-3710 | LS8 | 266.03 km | 02:27:32 | 108.2 km/h | 0 | 409 |
| 24 | | Jiri Holub | JHO | OK-4408 | Discus2 | 266.03 km | 02:29:12 | 107 km/h | 0 | 402 |
| 25 | | Rudolf Kalousek | R1K | OK-7777 | ASW28 | 266.03 km | 02:32:35 | 104.6 km/h | 0 | 388 |
| 26 | | Zbyszek Tkocz | ZBY | ZBYCH | Discus2 | 266.03 km | 02:34:39 | 103.2 km/h | 0 | 379 |
| 27 | | Petr Polach | SOP | OK-6808 | Discus2 | 266.03 km | 02:37:37 | 101.3 km/h | 0 | 368 |
| 28 | | Milos Koch | MK | OK-1823 | ASW28 | 266.03 km | 02:37:52 | 101.1 km/h | 0 | 367 |
| 29 | | Pavel Snajdr | ST | LT5 | LS8 | 266.03 km | 02:57:51 | 89.7 km/h | 0 | 308 |
| 30 | | Lukas Zemek | LZ | OK-2705 | Discus2 | 140.08 km | | | 0 | 162 |
| 31 | | Vladimir Tishevsky | TVA | STORK | Discus2 | 141.77 km | | | 0 | 0 |
| 32 | | Eman Sadik | EMA | OK-1940 | Discus2 | 141.6 km | | | 0 | 0 |
| 33 | | Erwin deBruin | EDB | PH-1969 | LS8 | 141.17 km | | | 0 | 0 |
| 34 | | Gary Miller | RX | N71RX | Discus2 | 139.6 km | | | 0 | 0 |
| 35 | | Michal Brabec | 15 | OK-GENE | LS8 | 137.26 km | | | 0 | 0 |
| 36 | | Miro Kucera | MK7 | OM-2507 | Discus2 | 98.2 km | | | 0 | 0 |
| 37 | | Ian Benesovsky | IB | LV-IAN | Discus2 | 86.9 km | | | 0 | 0 |
| 38 | | Dmitry Andreyev | D2A | - | ASW28 | 61.9 km | | | 0 | 0 |
| 39 | | Paca84 Laurent | LM1 | PACA84 | Discus2 | 5.6 km | | | 0 | 0 |
| 40 | | Leandro Ortiz | 130 | LV-DEJ | Discus2 | 0 km | | | 0 | 0 |

Download IGC files (all pilots in one ZIP file) | Detailed results (mCR, mIAS, Detour%...)
Briefing › Day 1 › 08.04.2017 › 20:00 CEST › Saturday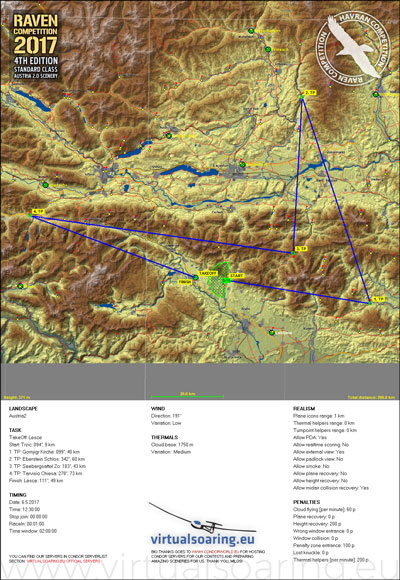 Server:Raven Competition 2017
Password:
Date:08.04.2017
Time:20:00 CEST (18:00 UTC)
Join time:30 min.
---
Landscape:Austria2 [2.0]
Plane class:Standard Class
Task type:Racing Task
Race-in time:1 min.
Time window:120 min.
Start time:12:30:00
Condor date:06.05.2017
Start altitude:max. 1500 m QNH
Wind direction:191 °
---
TakeOff:Lesce
Start:Trzic
1. TP:Gornjigr Kirche
2. TP:Eberstein Schlos
3. TP:Seebergsattel Zo
4. TP:Tarvisio Chiesa
Finish:Lesce
Distance:266 km
---
Cloudflying not allowed! Circeling in the direction of climb is determined by the first glider in thermal. If you have doubts about the circeling direction, ask in the chat. Please FLY SAFE, good luck to all pilots.
---

Download Flightplan (FPL file)
---